Latest Updates from Risque Sluts (Page 17)


Dylan is no stranger to our site and as expected she is here to get fucked and squirt everywhere. After a very seductive strip tease, she lays back and tease her pussy to multiple orgasms. Next we get her set up with her first machine and within no time, she is squirting all over the studio. She is then standing over the crystal palace and as the machine increases in speed her pussy begins to quiver. Shortly after that her pussy begins to squirt again and we couldn't be happier about that. We move into the final set up are aiming to fuck her sexy ass. We line up the machine and, insert the dildo, and then start the fucking. We may not get anymore squirting but the orgasms are just as powerful.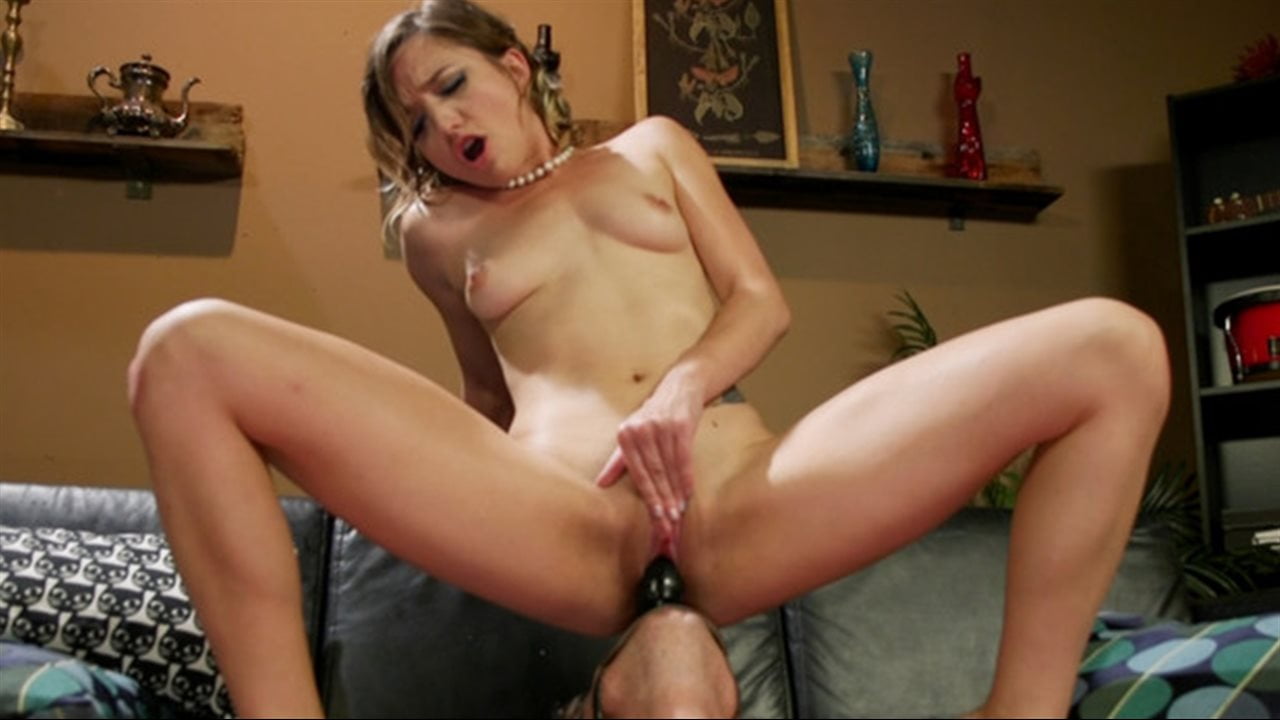 Couple Eliza Jane and Pierce Paris finally have a night off together! Eliza really wants tonight to be special and orders new toys to try out with Pierce. Pierce is hesitant at first, but will try anything for Eliza. He strips for her, revealing his toned fit body. After he's naked, Eliza slaps handcuffs on him and bends him over her knee. Pierce is shocked as Eliza begins spanking him -- hard! He's even more surprised that he kind of likes it. Eliza then begins to trail her petite feet along his body. When her feet land on his cock, Eliza decides it's time to for more pain. She kicks Pierce in his balls over and over again. Pierce moans as Eliza's petite feet bust his balls, and Eliza is delighted. She's never had so much fun! She loves treating her boyfriend like a piece of meat. She sits on his face and uses his mouth to pleasure herself before sinking her pretty teeth into his big fat cock. Next, she zip ties him down and flogs him all over his ass and back. She slides her fat cock into his open mouth. Pierce swallows every inch of her fat cock, getting it all wet for his ass. Eliza splits Pierce's ass open with her strap on, thrusting relentlessly as she pounds Pierce's asshole. Once his ass is stretched wide, she fist fucks his slutty ass before stuffing both his balls into his ass. After his balls are inserted, she pushes her fist inside, fisting him while holding his own balls in her hand. But Eliza isn't done yet. She fits Pierce with a strap-on gag and fucks his face as she tugs on his nipple clamps with a leash. Once she's satisfied, Eliza uses her petite feet to jerk off Pierce. He cums hard, covering her toes in sticky cum. Eliza grabs his dick and furiously keeps jacking Pierce off until he cums again.
Tori Avano is an Army Private who is going to get the anal hazing of a lifetime. Dee Williams and Syren De Mer are two MILF commanders who are going to dish out the punishment with glorious tag-teaming action. Poor young Tori is tied up in bondage with her ass exposed and up in the air, ready to take a spanking. Syren De Mer starts the spanking. She warms up Tori's ass with spankings that turn her tushy hot and pink. Dee Williams finishes the spankings, making Tori's pink cheeks so sensitive that she jumps anytime her ass is touched. Syren grabs her flogger and goes to town on Tori's ass, back, and feet. To start, Tori's asshole gets opened up with a metal toy. These anal punishing MILFs know exactly how to open an asshole properly by giving it a good warm-up. The chemistry between all three of these anal whores is strong. Tori's asshole opens from the sexual energy, and just at the right time to attempt to take Dee William's entire fist. This is Tori Avano's very first ever anal fisting. She really wants to impress her commanders. She attempts to take the fist at first but the feelings are too intense for her. She calls mercy but then begs her commanders to try again. One the second attempt, Dee's entire fist goes in and with her ass full, Tori smashes a vibrator against her own clit and makes herself cum. Veteran ass stretcher, Syren De Mer volunteers to show Tori Avano just how its done. Syren takes a full blown anal punching from Dee Williams. Dee and Syren lick up all the gaping holes they create. Finally, Tori is released from bondage and is fully compliant to taking a good hard lesbian anal strap-on fucking from Dee Williams while Syren holds Tori's gaping asshole open and licks all the freshly fucked flesh.