Latest updates featuring Dolly Diore
19yo Anal Slut Vyvan Hill and Perky Brunette Dolly Diore are being paraded around Budapest today. They are made to strip down naked in public. Fully exposed to a vibrant and crowded public area. Vyvan Hill is a gorgeous blonde with natural big tits and shaved pussy. Her red lipstick perfectly matches her red high heels. The crowd goes wild for this young beauty. Dolly Diore is a brunette with a trimmed pussy and a perfect body for everyone to take in. These sluts are bound in leather neck collars and led by leash around town. The motorist almost get into accidents when they can't take their eyes off these stunners. The beautiful dominatrix Cherry Kiss leads these two to a very crowded and horny bar. The patrons can't wait to get in on the action. Right after they arrive the cocks come poppin out and their mouths get busy. Deep throat blowjobs for everyone. Both horny subs get busy on the cocks before switching over to some wet lesbian pussy licking. Bar patrons even get in on the action. One hot horny slut takes her top down and starts sucking off 2 cocks. Another strokes the biggest cock there and squeezes his balls tight. The two subs need more attention and are bound in beautiful restrictive rope bondage. This gets the crowd horny and the fucking begins. Each girl is fucked hard in the pussy and shake with orgasms tremors. Vyvan is an anal slut and begs for anal orgasm. The fat cocks punish her asshole and rip out squirting anal orgasm before her round ass is spanked red. The girls are like orgasm vibrators on the cocks. Finally these two are drenched in hot cum and eat it off each other.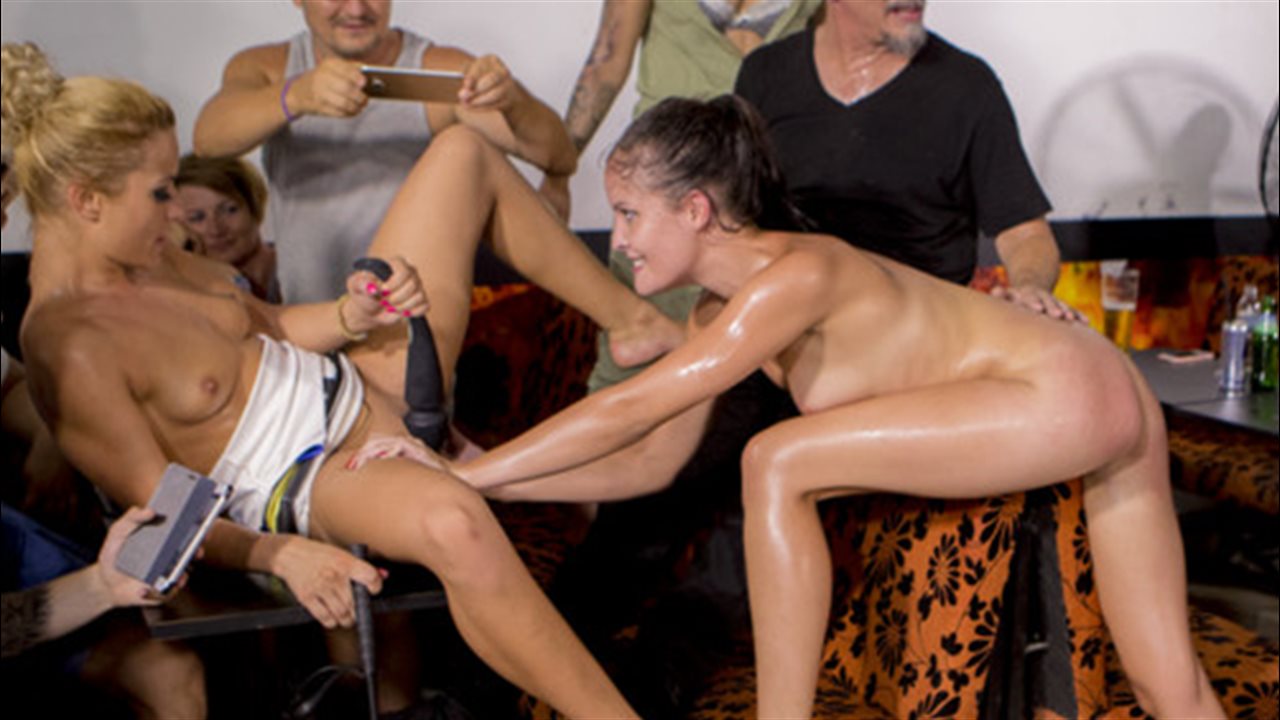 Dolly Diore is a sexy long legged slender brunette from Budapest who normally is the dominant one in a scene but today she submits to Cherry Kiss and Steve Holmes in an all out public fuck-fest. Steve starts by getting his shoes shined outside on a public sidewalk by the lovely Dolly using only her mouth gag with a brush attached to it. After that, Steve and Cherry Kiss take Dolly to the crowded streets with her natural perky tits exposed to the public. They make their way to another crowded bar and a now fully naked Dolly Diore struts in and gets her ass slapped by multiple patrons. She stands bent over with her hands braced against a bench so Steve and Cherry can take turns flogging her ass. Steve wraps his hand around her neck and applies pressure as his other hand swats her pussy. Cherry takes a seat in the middle of the room and lifts up her dress with her legs spread and buries Dolly's face in her pussy and Dolly gives Cherry a huge orgasm using only her tongue. Next, while Cherry recovers from cumming so hard, Steve and Ram whip out their cocks and while still on her knees, Dolly sucks them both. Cherry then shows them how a pro does it and slides Steve's cock all the way down her throat. This turns on a customer so much that she stands in the middle of the room hypnotized, fingering her own pussy. Steve notices and gives her a hand and then she drops to her knees to suck him off. After that, Dolly stands bent over a booth and Steve shoves his fat cock into her pussy and pounds it deep and hard and Ram on the opposite side gets his dick sucked while a customer lets him play with her tits. Cherry puts a vibrator onto Dolly's clit while she gets fucked sending Dolly into a mega orgasm leaving her body trembling.



Naughty Dolly has invited us over to her house to show off with her flexible pussy. When we arrived, she was already dressed to amaze, but it was just the beginning. We were mesmerized by the beauty of her self fisting skills, but when she picked up her baseball bat to give a real demonstration, we really had to hold on to our zippers.
Posing for a selfie with the beautiful Dolly Diore... that is a worthy achievement to show-off with. But Csoky doesn't get so easily satisfied. He wants more of that smoking hot body. He wants to get under that revealing attire to get a touch on the delicate parts hidden under... and yet a little bit more.