Latest updates featuring Jade Nile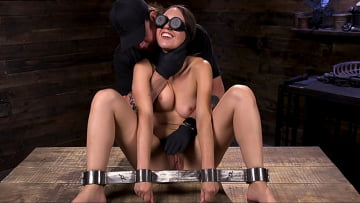 6th September
- Jade has decided to take the next step in her career and try out bondage. She dabbles in it in her personal life, and now is ready to take it to the n
ext level. She begins with her arms pulled behind her and her legs spread. She is helpless and realizes it especially when The Pope enters and puts his sadistic hands on her flesh. Her body and mind belong to him for the next several hours and she comes to terms with that fact quickly. Her nipples are the center of his attention in the beginning and she is made to do the work while he works on the rest of her body. Next it is a spreader bar that makes her helpless. Her entire body is controlled with one of his hands as the other dishes out the torment. Her pussy gets the brunt of his evil ways in this scene before she is allowed to orgasm. In the final scene Jade is in a pile driver and her feet and pussy are completely exposed and unprotected. There is another assault on her ass, feet, and pussy before she is made to cum uncontrollably. Her holes have been filled and her pussy is dripping form all of the orgasms. Her sight was taken with a blindfold to ensure terror as The Pope put her mind and body through hell. What we end up with is a slut that needed to suffer and a man willing to make her.
...Read More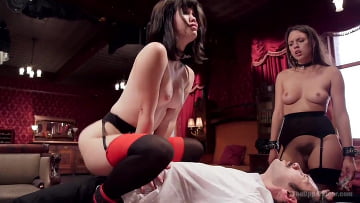 3rd July
- Jade Nile is a spoiled Daddy's girl who wants to be submissive, but simply can't take her punishment. Her man has the perfect solution: buy a whipping
girl. Yhivi is a perfect slave able to fuck and suck while silently suffering under hot wax and strict floggings for Jade's bratty behavior. Eventually Jade grows weary of getting all the dick and dishing out all the pain and begs to take her own punishments and receive slave training. locked to the St. Andrews Cross Jade learns the rules and has her ass whipped a deep scarlet while Yhivi gets fucked and licks her pussy. The last lesson for Jade to learn is how to control her selfish orgasms. Violently fucked in bondage, both slaves scream and cum, but Jade loses herself and begins stealing orgasms on her man's cock. She is pulled to the floor and made to watch while Yhivi's perfect round ass bounces on Tomm'ys hard on. Finally repentant and ready to show her worth as a submissive slut, Jade performs like a true slave in reverse cowgirl, weakening her thigh muscles and groveling to serve the house.
...Read More