Latest updates featuring Mystica Jade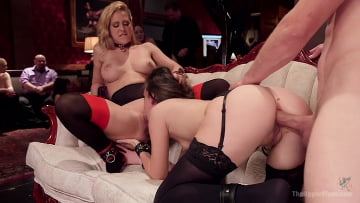 7th August
- Gorgeous and petite slave initiate Mystica Jade has submitted herself to the will of The House, with her asshole as an offering. MILF senior slave Che
rie Deville is on hand to lead our initiate by her tight little nipples around the crowd to show off the goods. Mystica blushes as Phoenix Marie spanks her round ass and offers her blow job pointers. With such a tiny throat it is a wonder she can fit the Butler's fat cock all the way in, but Miss Deville provides a wonderful example and has her trainee stuffed full of hard dick in no time. Submissive blow jobs and exhibitionism aren't all it takes to be a slave. Cunning and strength are needed, and Mystica is put on the spot to answer questions and hold heavy trays so that her Senior Slave can enjoy a good fucking at the hands of the Butler. For such a tiny girl Mystica is determined and struggles through several screaming orgasms while holding position before dropping her trays. Naturally she apologizes to Miss Cherie's denied pussy with a sloppy series of kisses. The final Hours of the night find our initiate trapped on her back, legs spread wide, rope tied tightly around her as the Butler and Miss Deville explore her ass with cocks and fists until the crowd is satisfied she has paid her dues and allow both slaves on the furniture to finish milking the Butler's balls and entertaining the House with a series of nipple and clit torment games.
...Read More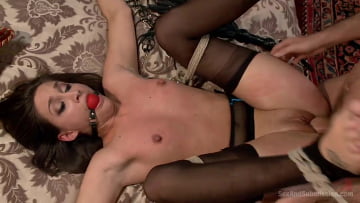 10th April
- Mystica Jade comes up with a scheme to get James Deen "The Courier" to an unusual destination, her bedroom. When he arrives he realizes the plot to ge
t him to fuck and dominate her into submission. So James gives this selfish whore exactly what she wants and much much more. He ties her up tight and shoves his hard cock down her throat until she utterly submits to his bondage and abuse.
...Read More
>> CLICK HERE TO DOWNLOAD <<
20th July
- Gorgeous Mystica has found her perfect man. Someone who fulfils her sexually in a way she couldn't have imagined. But there is one thing missing. She
has a fantasy that she has never made reality, and she really wants to know what it would be like to take two men at the same time. When she tells him her deepest desires, surprisingly, he is happy to make her dreams come true. He even suggests a friend who would love to join them for some fun. When the day arrives, she is so wet and ready for this. The take her like she couldn't have possibly imagine, satisfying her every need and taking her to new heights of ecstasy she could never have dreamed of.
...Read More
18th June
- Under the sun in tiny cut-offs, knee socks and heeled boots, brown-eyed brunette Mystica Jade strips and sways for the camera, shaved pussy and hard n
ipples moving hypnotically. Inside, tattooed stud Chris Strokes spanks her fleshy ass. Mystica unleashes his big boner and blows him; Chris grips her long hair for a face fuck; Mystica licks balls, burying her nose in scrotum. In a doggie-style plowing, his dick makes Mystica moan and shiver. She rides cock, fleshy ass flexing, and fingers her asshole. Chris smacks her cheeks pink. After sucking cock pussy-to-mouth, she spreads widely for an anal reaming and masturbates as Chris' cock pile-drives her asshole. He creams her cute face, and Mystica licks excess jism from the floor.
...Read More