Latest updates featuring Pierce Paris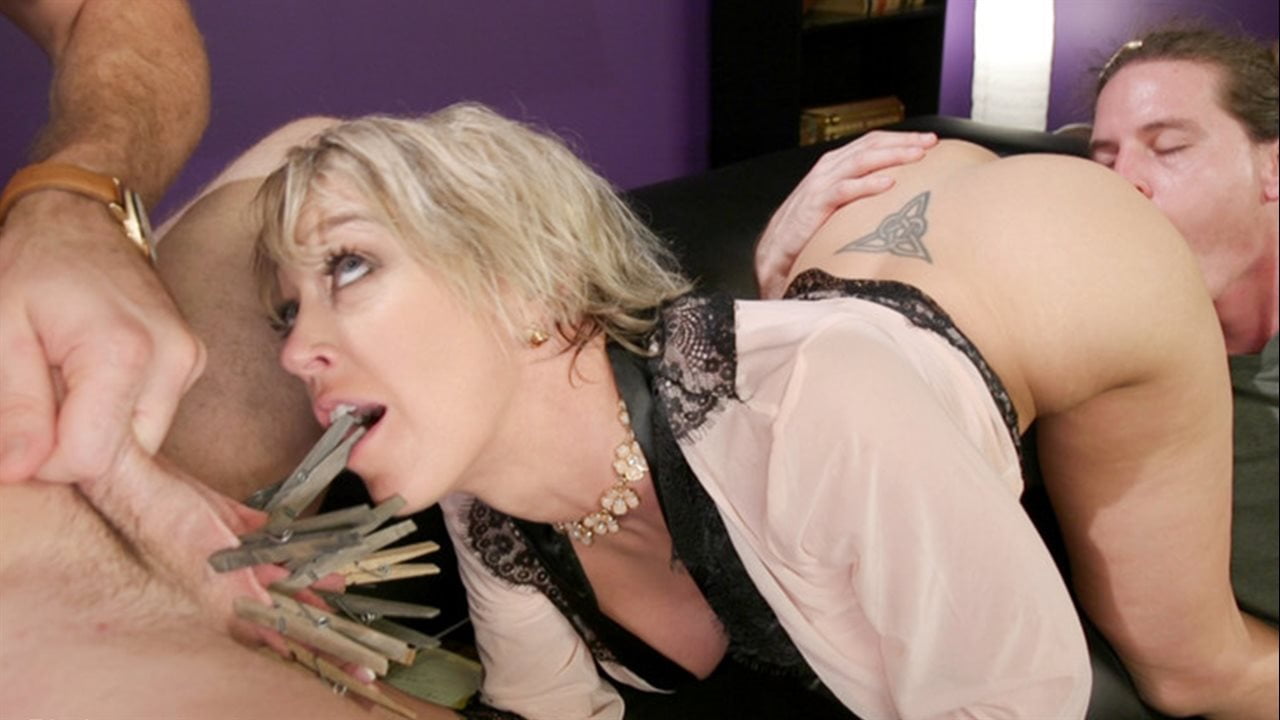 Pierce Paris works tirelessly on the taxes of his and his wife's, Dee Williams. Dee comes home happy to see her hubby. She tells him that she cant wait to have some alone time with him but Pierce pays her no attention. She exposes her big beautiful tits and strips down to her underwear to catch his eyes but he types away on his laptop. Now angry and horny, Dee texts her tennis instructor, Kip Johnson. She sends Kip a sexy photo and writes to him that she needs some dick. Kip comes over right away and Dee gets right to it. She pulls Kip's pants off and sucks his cock in front of her husband. Her husband Pierce finally looks up and notices his wife sucking some strangers cock. He gets mad but Dee explains that its his fault for not paying better attention to her and her needs. She tells Pierce that if he wants to make it up to her, he'd better suck Kips cock. Reluctantly, Pierce wraps his lips around Kip's cock and sucks it. Dee orders her husband to get undressed as she bends over their couch to let Kip lick her pussy from behind. She makes Pierce do pushups while she crops his ass. Next Dee applies clothespins to Pierce's ballsack and rips them off with her teeth. In the next scene, we find Pierce lying naked on his stomach with a ball gag in his mouth. Dee whacks him with a leather flogger while Kip jerks off in the background. She climbs on top of him and shoves her huge dildo in his ass and fucks him hard with her strap-on. She invites Kip to come fuck her pussy while her dildo is still buried in her husbands ass. After that, Dee puts her husband on his back and shoves both of his nuts up his ass. She enters his ass with her fist with his two balls and makes Pierce watch her get fucked. She comes hard from Kip fucking her and tells Pierce to flip around so that he can get a better view from underneath of her getting fucked. Dee asks for Kip to cum inside her and he blows his fat load up her pussy. Dee tells Kip to scram and pushes all of his cum onto Pierce's face hoping he's learned his lesson.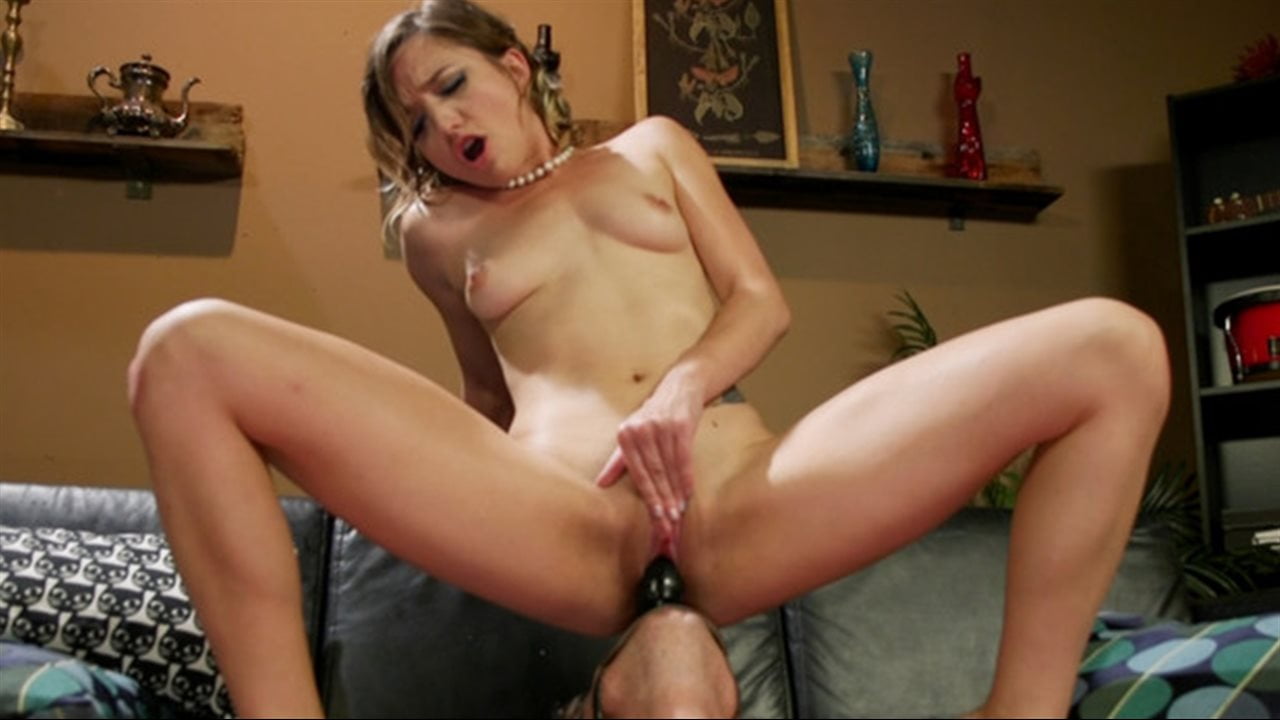 Couple Eliza Jane and Pierce Paris finally have a night off together! Eliza really wants tonight to be special and orders new toys to try out with Pierce. Pierce is hesitant at first, but will try anything for Eliza. He strips for her, revealing his toned fit body. After he's naked, Eliza slaps handcuffs on him and bends him over her knee. Pierce is shocked as Eliza begins spanking him -- hard! He's even more surprised that he kind of likes it. Eliza then begins to trail her petite feet along his body. When her feet land on his cock, Eliza decides it's time to for more pain. She kicks Pierce in his balls over and over again. Pierce moans as Eliza's petite feet bust his balls, and Eliza is delighted. She's never had so much fun! She loves treating her boyfriend like a piece of meat. She sits on his face and uses his mouth to pleasure herself before sinking her pretty teeth into his big fat cock. Next, she zip ties him down and flogs him all over his ass and back. She slides her fat cock into his open mouth. Pierce swallows every inch of her fat cock, getting it all wet for his ass. Eliza splits Pierce's ass open with her strap on, thrusting relentlessly as she pounds Pierce's asshole. Once his ass is stretched wide, she fist fucks his slutty ass before stuffing both his balls into his ass. After his balls are inserted, she pushes her fist inside, fisting him while holding his own balls in her hand. But Eliza isn't done yet. She fits Pierce with a strap-on gag and fucks his face as she tugs on his nipple clamps with a leash. Once she's satisfied, Eliza uses her petite feet to jerk off Pierce. He cums hard, covering her toes in sticky cum. Eliza grabs his dick and furiously keeps jacking Pierce off until he cums again.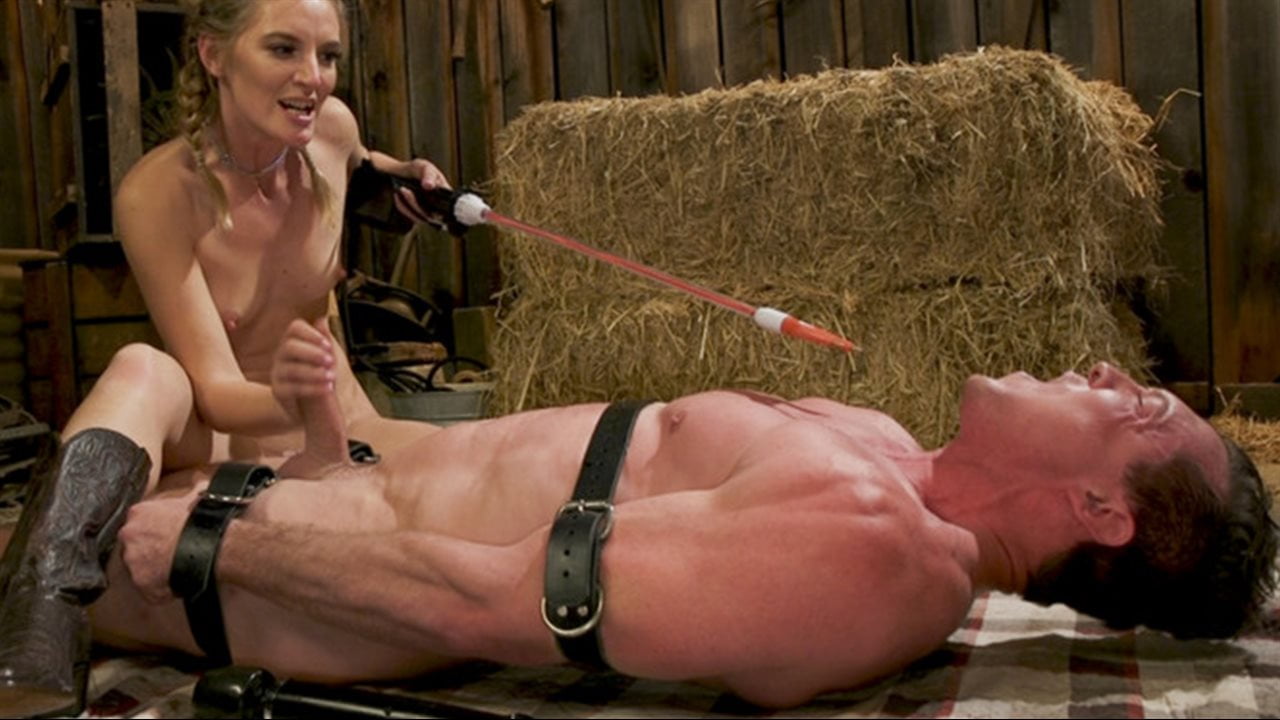 Tough rancher babe Mona Wales brings on new ranch hand Pierce Paris to help her around the farm. Pierce is 100% Grade A Beef and a bonafide horndog. All the blood in his body rushes straight to his huge boner as his hot new boss shows him around. Once Mona leaves him to work, he whips out his fat cock. But as soon as he starts pullin' the pud, Mona returns and catches him redhanded. Mona knows there's only one thing to do with farmboys like Pierce -- treat 'em like the cattle she breeds and this here young buck looks like he'll be proper breeding stock. She stuffs his mouth full of hay and instructs him to continue jerking off until he spills his seed. She inspects his balls and crushes his face with her ass. She covers his balls in closepins and makes him moo as she jerks him off into a bucket. Then she ties him up on all fours and shoves her big fat cock into his tight ass. Pierce struggles in bondage but is unable to escape Mona's relentless pounding. Once Pierce is all stretched out, she uses his own cum to fist his asshole. She deposits his load of cum back in his ass and continues to jerk him off. Now that he's stuffed full of jizz, she strings him up. Pierce hangs upside down, unable to move. Mona flogs him all over his front before letting him lick her asshole. Mona cums hard all over his stupid animal face and brings him down so she can take his meat for a test drive. He worships her cunt with his eager tongue and then begs her to use her cock. Mona is ready to see how well this stock breeds and slides her cock right into her wet warm cunt. She rides Pierce rough and dirty, and makes him moo like the cow he is. Her orgasms keep coming as she squirts all over his pathetic face. Once he blows his final load, Mona decides it's time to use the cattle prod to mark her new piece of meat.