Latest updates featuring Vyvan Hill
19yo Anal Slut Vyvan Hill and Perky Brunette Dolly Diore are being paraded around Budapest today. They are made to strip down naked in public. Fully exposed to a vibrant and crowded public area. Vyvan Hill is a gorgeous blonde with natural big tits and shaved pussy. Her red lipstick perfectly matches her red high heels. The crowd goes wild for this young beauty. Dolly Diore is a brunette with a trimmed pussy and a perfect body for everyone to take in. These sluts are bound in leather neck collars and led by leash around town. The motorist almost get into accidents when they can't take their eyes off these stunners. The beautiful dominatrix Cherry Kiss leads these two to a very crowded and horny bar. The patrons can't wait to get in on the action. Right after they arrive the cocks come poppin out and their mouths get busy. Deep throat blowjobs for everyone. Both horny subs get busy on the cocks before switching over to some wet lesbian pussy licking. Bar patrons even get in on the action. One hot horny slut takes her top down and starts sucking off 2 cocks. Another strokes the biggest cock there and squeezes his balls tight. The two subs need more attention and are bound in beautiful restrictive rope bondage. This gets the crowd horny and the fucking begins. Each girl is fucked hard in the pussy and shake with orgasms tremors. Vyvan is an anal slut and begs for anal orgasm. The fat cocks punish her asshole and rip out squirting anal orgasm before her round ass is spanked red. The girls are like orgasm vibrators on the cocks. Finally these two are drenched in hot cum and eat it off each other.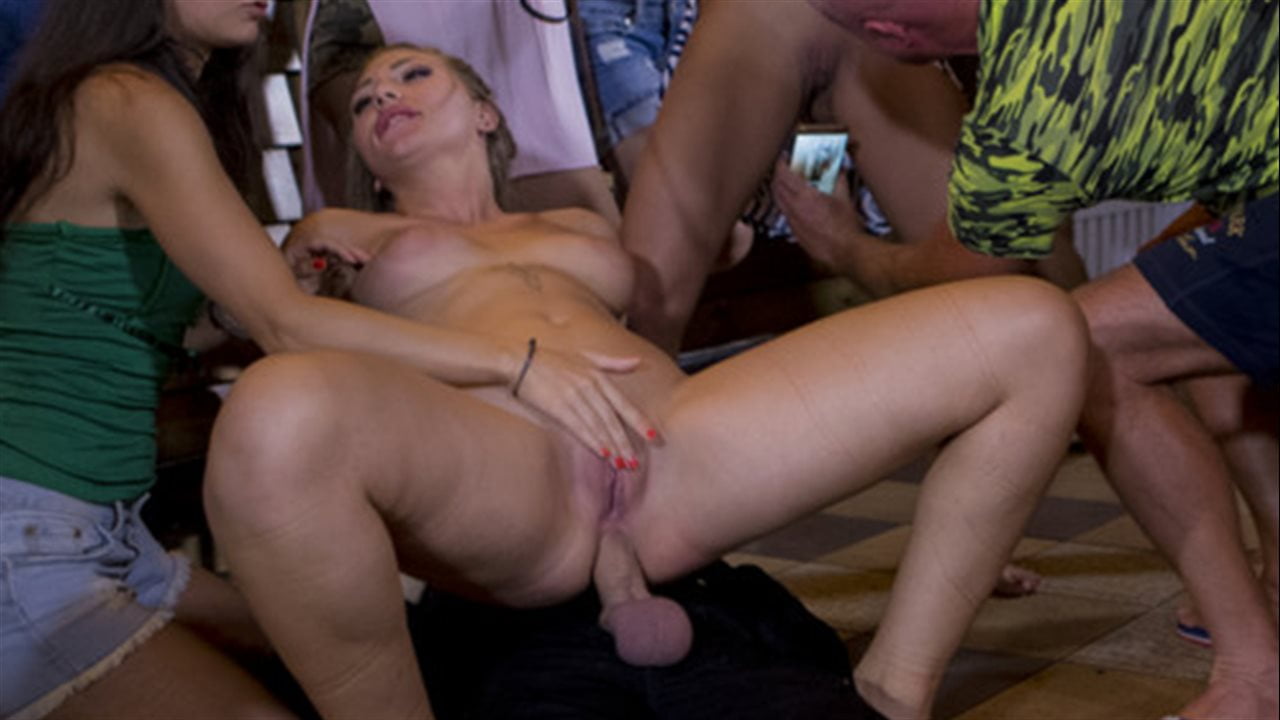 With a ball gag shoved between her two beautiful big red lips, Vyvan Hill walks handcuffed alongside the Danube river, led by the lovely Cherry kiss and Chad Rockwell. She wears only a small white dress that has been pulled down exposing her firm natural tits, shaved pussy, and round ass. She parades down the stone walkway naked, as people pass them and stare. They make their way to the top of the Gellert Hill to a popular place with the best view of Budapest. There, Cherry and Chad take off Vyvan's dress, leaving her completely naked in front of all the tourists and take turns spanking her ass. Later they meet up with Steve Holmes in a bar and Vyvan gets on her knees to suck his cock. She wraps those big full lips around his big dick and deep throats his entire hog. She then gets bent over a bar and the customers all take turns spanking her ass with a flogger until her ass turns bright pink. Steve slides his cock into Vyvan's ass while he has her bent over and pounds it deep. They then lay Vyvan across four bar stools on her back with her legs spread and Chad comes in to fuck her ass while her legs get tied up in rope bondage. Chad disappears and Steve slides his cock into Vyvan's pussy while Cherry plays with her clit sending her into an orgasmic frenzy. He goes into Vyvan's ass next and pounds it until she cums hard. Cherry gets so turned on that she mounts Vyvan's face and gets her pussy licked while Steve fucks her ass from behind. Steve then lays on the floor and tells Vyvan to sit on his cock. She shoves Steve's cock in her ass and bounces up and down on it while strangers grab her tits and rub her pussy giving her one more big orgasm before getting a hot load in her face.