Latest 'domination' updates from Risque Sluts


Liv is a sexy little slut with an ass to die for. Everything about her is sexy as fuck, but her booty is insane. We begin with her standing and her arms above her head. The Pope enters and starts manhandling her, and she is completely turned on by his sadistic touch. She hasn't shot with him in a few years and has been counting the days until she was reunited with her master. The torment begins and she embraces every strike she receives. Her nipples are clamped and then tormented before her legs are pulled away and she is now suffering in a suspension. Her pussy is fucked and she screams through her first of many orgasms. Next she is hoisted into the air in an inverted suspension that has all of her weight hanging from her hips. Her ass is accentuated by design with this intense suspension that makes her curves shine. Her ass is the main target of The Pope as he rains down a full blown assault on her perfect ass. Her screams change to a tone that he knows all to well, which means it's time to switch to orgasm so he doesn't break his toy. In the final scene she is on her side with one leg tied to a column and her hands over her head. Her feet are subjected to a brutal bastinado session and then her mouth and pussy are fucked into submission. She is one of his toys/bitches, and she wouldn't have it any other way.
When Brunette beauty Whitney Wright is tied up and held for ransom Mr. Pete can't resist her sex appeal and the evening turns into an Anal Heist! Wearing a sexy robe and white high heels Whitney is bound in rope, gagged and doing everything she can to get Mr. Pete's attention. She is bored and wants to fuck! She tosses her hair in a flirtatious manner, reveals her small sexy tits and rubs her pussy until finally Mr. Pete gives in and decides to have his way and give her what she desperately wants - hardcore BDSM, flogging, fucking, sucking, slapping and domination. On all fours Whitney arches her back and wiggles her ass while Mr. Pete flogs her until her skin burns and turns red. After getting totally turned on from the corporal punishment Whitney asks Pete for that dick of his so she can suck it and boy oh boy can she suck cock. Deep throat, slurpy and wet she takes Mr. Pete to the edge with her skillful sucking but now it's time to fuck. Tied up on all fours in doggie Whitney gets the crop on her sensitive thighs and ass, then Pete slides his fat cock inside her wet pussy and takes her to pound town. He fucks her pussy real good and then slips a glass dildo into her asshole so both holes are filled up and happy. Then Pete fucks Whitney's ass and all is right with the world cuz she's screaming and loving it and begging to cum. Now tied up on her back with wrists tied to ankles, Mr. Pete holds Whitney's delicate neck, fucking her pussy and ass deep and hard filling her with pleasure until he blows his load all over her.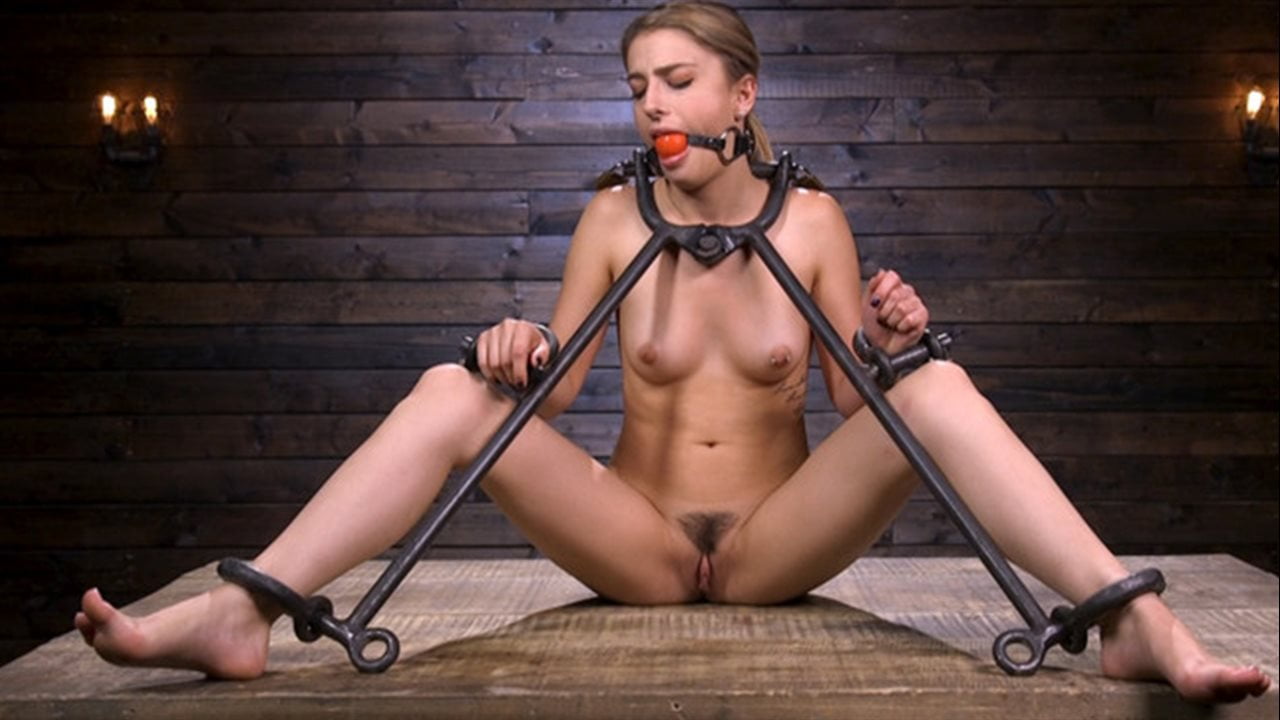 Every day is new beginning and today is the one the begins Kristen's first time on Device Bondage. She has proven herself on Hogtied in recent months, but this is a different dance that she has to do. The devices are rigid and unforgiving and the sense of total helplessness is immediate. She is standing with her body weaved into the first device that sticks her ass out and makes her arch her back. Even her pretty face is in bondage with a leather head harness gag. The Pope towers over his prey as the torment begins with a vicious flogging to her flesh. He has his way with her until she has earned her first orgasms. The second scene opens up with Kristen atop a wooden tale and restrained in a steel scavenger's daughter. Her neck, wrists, and ankles are all secured in cold steel keeping her in a fixed sitting position. A blindfold is applied to take away her sight so that the game can begin. The Pope quietly moves around the dungeon and shocks her with an electric zapper. Some fear play thrown in for good measure before he assaults her pussy with a vibe for more orgasms. We can't finish the day without seeing her perky ass, so she is bound in a doggy position. Her flesh is striped with a cane before she is stuffed with a large metal hook. She endures more orgasms against her will until he has had his fill of this little slut.