Latest Updates from Risque Sluts (Page 6)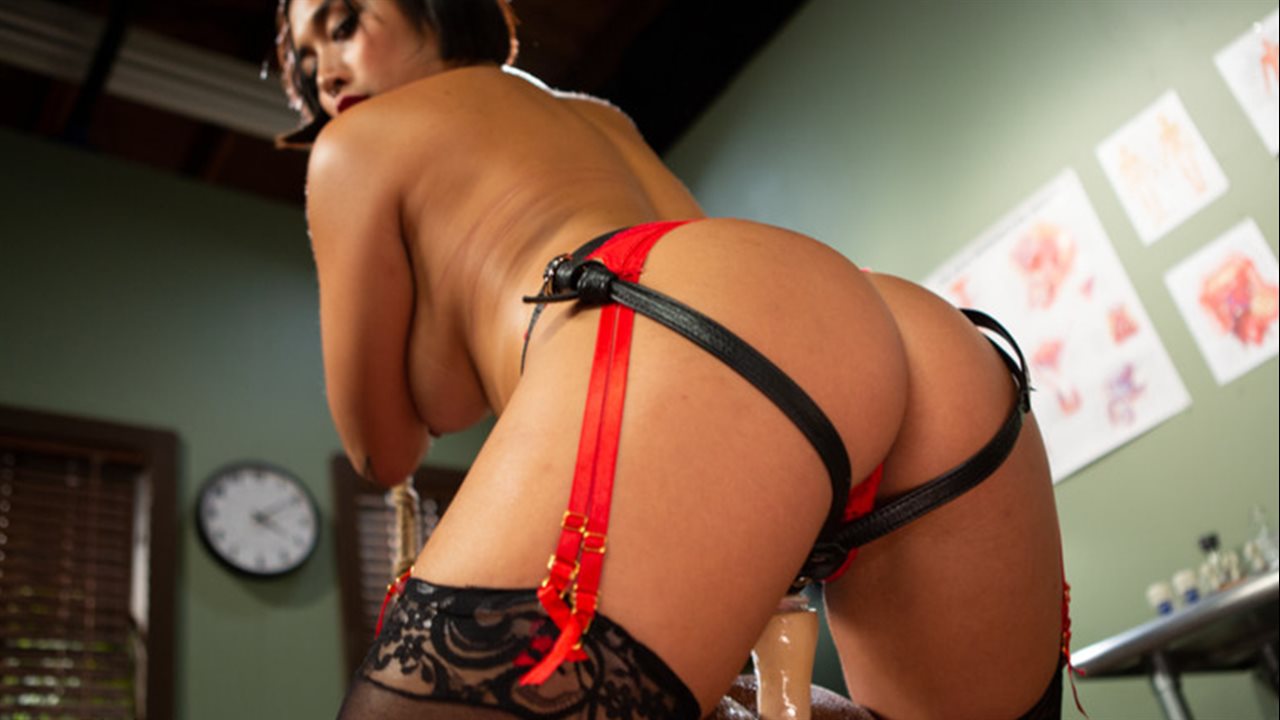 This is Mia Little's Doctor's Office and she will be respected. This stunning busty asian beauty demands your attention when she walks in the room. Dressed in her white doctor's coat and stethoscope she is ready to diagnose what is ailing this new comer. Welcome Styx to kink.com. This handsome and hung man is having a little trouble with anal sensations. Maybe he pulled something while working out at the gym? Maybe he just wants to tests his limits. Dr. Mia has not time for his sass though and gets her patient stripped down to his robe and starts running tests. First we need to recreate the problem, was Styx hard as a rock and stiff when he was feeling sensations in his anal area? Would prostate milking help diagnose is problem. Mia strokes his huge cock while fingering his asshole. This gets Styx screaming with pleasure. Maybe a little pain could help figure out the issues. Mia firmly slaps his hard cock. Punches his dick and stretches out his balls. This gets Styx even harder and dripping precum. This little man slut just needs a strong woman to tell him what he needs. Styx screams over and over again, begging to cum and release his heavy load. Mia denies him over and over again, edging him to a full breakdown of pleasure. Would caning his sensitive thighs get him harder? Would slapping his ass work? Mia runs through all the test wearing her black gloves before strapping on a huge cock and delivering a deep anal fuck. This beautiful doctor adds more stimulation by taking off her top and revealing her gorgeous big breasts. Styx can't get enough of Mia's anal strap-on pounding while in full restrictive rope bondage. Styx needs to learn to please a strong woman and is made to eat Mia's perfect little tight pussy while she spits all over his feeble face. She then removes her high heels and has Styx worship her bare feet with his tongue. While fully bound will Styx be able to give pleasure to his medical mistress? After cuming over and over again, Mia finally showers her patient clean. And as a public service reminder, for those with prostates please get them checked out regularly by your doctors!
Chanel Preston sits at her throne with two submissives kneeling at her side. To her right is Penny Pax who wants so bad to be trained to top other's asses. On her hands and knees with her round ass covered in latex and her big natural tits out, Penny listens and obeys as Chanel agrees to give her one chance. To Chanel's left is Kendra Spade who sits silent and naked and is there only to serve and to be a willing ass for Penny to practice on. But first Penny must worship Chanel's ass to show her how much she wants it. Chanel stands and lifts up her tight purple latex minidress and bends over her throne and spreads her big beautiful round ass. She tells Penny to show her what she's got and Penny dives into her ass face-first and vigorously licks her hole. Chanel shoos Penny away and tells Kendra to show her how its done. Sure enough, Kendra licks Chanel's hole with more gumption, licking and tongue-fucking her hole, getting Chanel to moan in pleasure. Chanel tells Kendra to stick a glass toy in her ass and Kendra does it perfectly, showing up Penny once again. Kendra pulls the toy out of Chanel's ass and puts it in her mouth to clean it off. She pops it in and out of Chanel's ass and feeds the toy to Penny. Next, Chanel tells Penny to put the toy into Kendra's ass and to not disappoint her. Penny stretches Kendra's ass with the clear glass toy while Chanel flogs Penny's bare ass. Chanel presses an hitachi against Kendra's pussy and she cums hard. In the next scene, Kendra is on her back with her legs spread with a metal butt-plug in her ass. Chanel tells Penny to make Kendra cum, and so with her ass in the air, Penny licks Kendra's pussy while Chanel fucks Penny's ass with a big metal dildo. After that, Chanel commands Kendra to get her ass in the air. Chanel puts a cold metal speculum into Kendra's ass and spreads it open. Penny is ordered to lick Kendra's gaping hole while Chanel puts the hitachi once again onto Kendra's pussy and Kendra cums again. Chanel puts the strap-on to work and stacks Kendra on top of Penny, both in doggie, and fucks their asses with her big strap on dildo. Kendra hops off and sticks her open mouth next to Penny's ass hoping to gag on Chanel's cock and taste the inside of Penny's ass. They both take turns riding their Mistress' cock in reverse cowgirl, fucking their own asses. In the final scene, Penny is on her back with her legs spread and Chanel fucks her with a huge class toy. She flips her over in to doggie and fists her ass and makes Kendra fist her ass too.
A visit from Tommy's former babysitter "Auntie" Dee triggers memories of Dee and Tommy's father's affair and the broken manhood he has suffered since. When presented with the opportunity to make things right, Tommy pushes the boundaries of normal behavior and waterboards his former nasty babysitter on the path to healing their broken past. He wants his slutty babysitter to suffer the way he did when she tore their family apart years ago. So Tommy ties Dee up on a board on the kitchen counter--the site where she made all his lunches and dinners while she was secretly fucking his Dad! Lying slanted on the board Dee is tied with rope around her ankles, knees, thighs, wrists, tits everything strapped down so tight she can barely move. A vibrator is crammed between her legs, her mouth is covered with a bandana and her massive tits bulge from the rope binding them, Tommy wants her to admit she is a Homewrecking slut so how about a little waterboarding to get her to confess! He pours water on her mouth and she gurgles and gags and tries to convince Tommy she is sorry and never meant to hurt anyone. Dee is desperate and begging him to stop, this is just what Tommy had in mind for the first phase of his twisted revenge. He whips her plenty with the flogger stinging her tender flesh and turning her pale skin bright pink. With the flogger, crop, vibrator he takes her to the edge and then further eliciting orgasms from all the wild stimulation. Even though Dee admits she is a homewreckin' whore she still wants some dick cuz she can't ever get enough. Nipple clamps dangling and pulling on her huge tits Dee sucks Tommy's cock like the tart she is choking and slobbering all over the place while Tommy slaps, zaps and does some throat fuck wreckin' of his own.On all fours with mouth gag Dee's ass is way up in the air ready to be fucked. First the flogger turns her butt red and leaves little marks all over her sensitive skin. Finally Tommy fucks her pussy making Dee moan and groan and quiver and cum. Then he takes her over the top when he fucks her tight ass. Dee says he fucks better than his dad ever did!Now tied up on the couch with her big tits piled high and both her hungry holes ready to be fucked Tommy pounds her out with all his kinky vengeance. Back and forth between her wet, wanton pussy and horny ass until she is cumming hard Tommy blows his hot load all over her homewreckin' face.