FuckingMachines.com is where you'll find women fucked by huge dildos strapped to sex machines that fuck hard, featuring real female orgasms and girls squirting cum. Hardcore machine fucking guarantees that hot girls get off, with custom built sex machines designed for one purpose: to make women cum hard. Experienced porn star sluts and first time girls get fucked by robotic sex machines and hard cock on camera in high definition with downloads or streaming video at speeds up to 350 RPM
Latest Updates from 'Fucking Machines' at Risque Sluts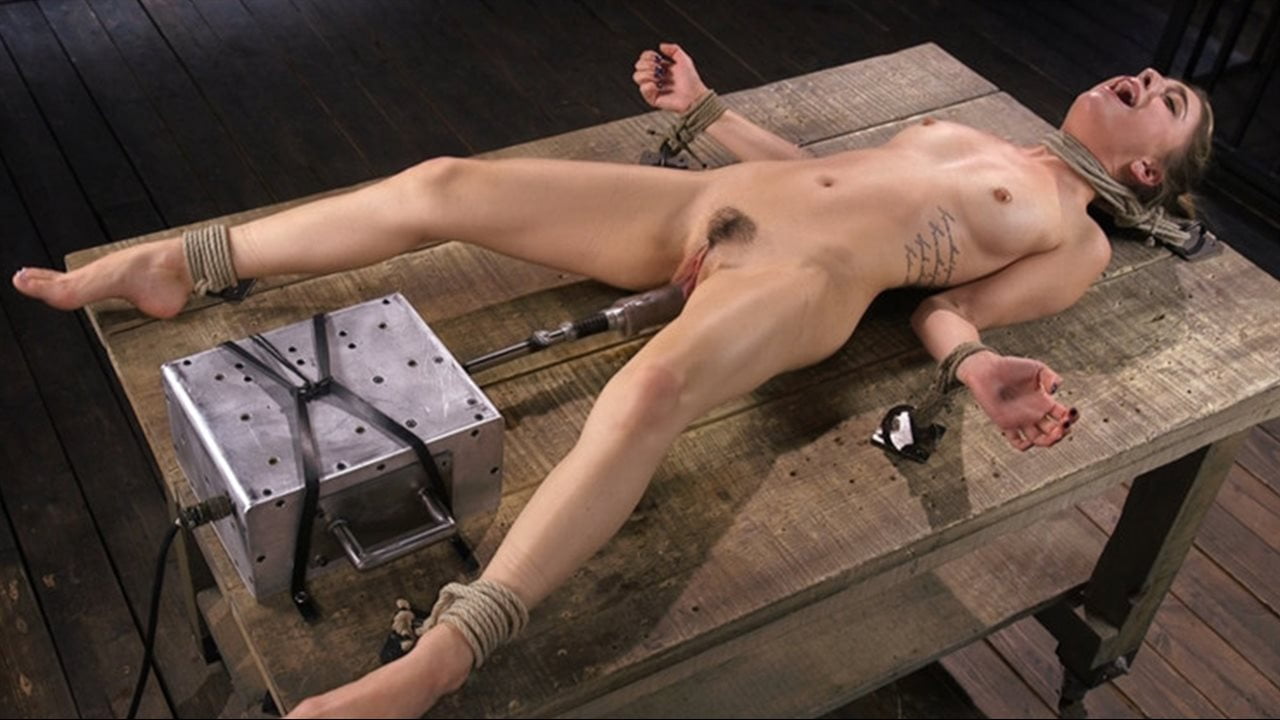 It's been brought up over the years how much most of you lovebondage and fucking machines, so today we begin a new chapter. We are addingbondage to the shoots to intensify the orgasm, as well as give the fans that don't liketorment or other participants, but love bondage something too! We begin with theinnocent and sexy Kristen Scott. She loves to be tied up and fucked, so why not let her bethe first? We let her get her pussy warmed up with our new vibe, and then weadd the ropes to ensure her helplessness. The first position is a traditional hogtie on awooden table. The machine is slid into her dripping wet pussy and then the fun begins.We keep ramping up the speed and intensity of the fucking, and then we add a nicesurprise by fucking her mouth at the same time. She is more than eager to do her best atshoving it down her own throat. Next we flip her over and have her in a face-up, spreadposition with her neck tied to the table so that she chokes herself when she tries to watchthe machine power fuck her pussy. Once she has reached the point of beingoverwhelmed, we add a vibe to her pussy to blow her fucking mind. We finish with a fanfavorite: the sybian! The vibration shakes every bone in her petite little body as it makesher pussy cum uncontrollably. It's clear that we are off to a good start!
Lisey is a seductive slut who will devour any man or woman. She has an insatiable appetite for sex and we are going to make sure she gets her fill before we let her leave. She begins with a slutty masturbation scene to get her pussy primed for the machine fucking in which she is about to receive. She reclines back as the machine is slid between her pussy lips and deep into her honey hole. The machine begins to move in and out, then in and out again massaging her inner walls with pleasure like she's never had before. Moans begin to fill the room as she is pushes closer to ecstasy with every stroke of the machine. Lisey can't believe that something other than a human can bring her so much pleasure, but she settles in a takes the ride anyway. Next we have her with a different machine and it doesn't take long before she is squirting all over the floor and everything else within a few feet of her. Suddenly she is overtaken with pleasure and wants even more. This is the hardest that she has ever orgasmed and she's not about to stop the ride now. We introduce her to the sybian and her whole world gets turned upside down. Multiple orgasms pour out of her pussy and she continues this process until she in completely drained.
Rose shot for Kink several years ago and then took some time off. After a short break she is back and hotter than ever. She is young and angsty with a sexy goth look about her. She is a typical goth in that she is very quiet and timid, but once the orgasms start, it's hard for her to maintain her quiet facade. After a little coaxing from the vibe her pussy is primed and ready to start her day with power fucking from our machines. Seated on top of our big wooden table she has her legs spread and she waiting for the first of many to be inserted into her tight pussy. Her bashfulness is quickly dissolved when the orgasms begin. Once she is aware that she emoted a noise, she blushes and tries to hide the fact. we move on to the next position which has her standing with the crystal palace between her legs. Again we watch as this bashful girl becomes the slut we all want her to be. She is finished off with a nice long ride on the sybian. She may still be shy, but now all of us know what kind of dirty slut she can be.