Latest 'Fingering' updates from Risque Sluts


Dominic Pacifico is hooded and bound by leather and metal. His balls are tied tightly to a weighted bucket as he awaits the arrival of busty blonde bombshell Aiden Starr. Aiden wastes no time cutting this male dom down to size and stripping him of his ego. Dominic moans under the attention of this Goddess. He cries out as she smacks his chest and abs, and toys with his super sensitive nipples. Aiden laughs as Dominic strains in bondage, unable to escape the humiliation of being beat up and dominated by a woman. She clover-clamps his nipples, and decorates his foreskin with a crown of close-pins. Dominic yells as she drops weight after weight in the bucket connected to his balls as it pulls them further and further from his body. Next, she opens up his asshole with her hand. Working four fingers inside his greedy slut hole, Aiden laughs as Dominic pushes back like an eager slut, thirsty for more. He moans around his ball gag as she then pushes her long fat cock into his asshole and gives him a hard pounding. Aiden knows what a greedy whore this male dom is just from glancing at his asshole, so she prepares a fucking machine to pummel his ass. Dominic holds his legs open as the machine relentlessly drills into him. Aiden takes a seat on his face and has him lick her pussy while he gets fucked. Finally, Aiden commands Dominic to grab a box from the corner. She pronounces it his dinner table and directs him to make his own dinner. Dominic takes his cock in hand, jerking it as Aiden smacks his chest over and over again. Each smack brings Dominic closer and closer to cumming, and he blows his load all over his slave table. He eagerly laps it all up and eats the last remaining drops from his Mistress's hand.
Chloe Cherry and Jane Wilde are just two adorably cute college freshman. They love to sneak off and experiment with each other. These two perky young tight bodies have no idea what to do with each other and usually just end up making out. They of course both want to remain a virgin. Lucky for them their sexy professor Norah Nova knows exactly how they can get what they want and still be virgins. ANAL. The girls minds are blown by this idea and can't wait for their asses to be blown wide open as well. First Norah shows them her beautifully jeweled butt plug which they remove and start sucking on to taste Norah's anal juices. The two girls then rim Norah and shove their long tongues up her asshole. The girls want to try this as well so Jane bends over with her ass in the air and gers rimmed by Chloe. Norah knows it's time to take it up and brings out the metal toys. First is a metal anal hood which Jane's hungry asshole eats right up. She never knew how much pleasure was waiting for her in that tight dark hole. Hungry for even more Jane's asshole gapes for more toys and more attention, but it's Chloe's turn now. Chloe takes the same metal ass hook and this gets her screaming with orgasm after orgasm. Jane wants more and gets on her back, they bring out an even bigger ass toy but to help they also give Jane the hitachi. Her hungry asshole takes that metal rod, when she works the hitachi hard on her pussy. Norah wants to show Chloe what it looks like in Janes perfect ass. So she brings out a giant glass toy which gives everyone a perfect view of inside Jane. Norah wants to dive in even further and brings out the speculum and examines both girl's tight gaping assholes. It's time to lose that anal virginity, Norah puts on a huge cock strap on and fucks both girls til they scream. Chloe needs more and Norah knows this. The only thing left to take is her fist!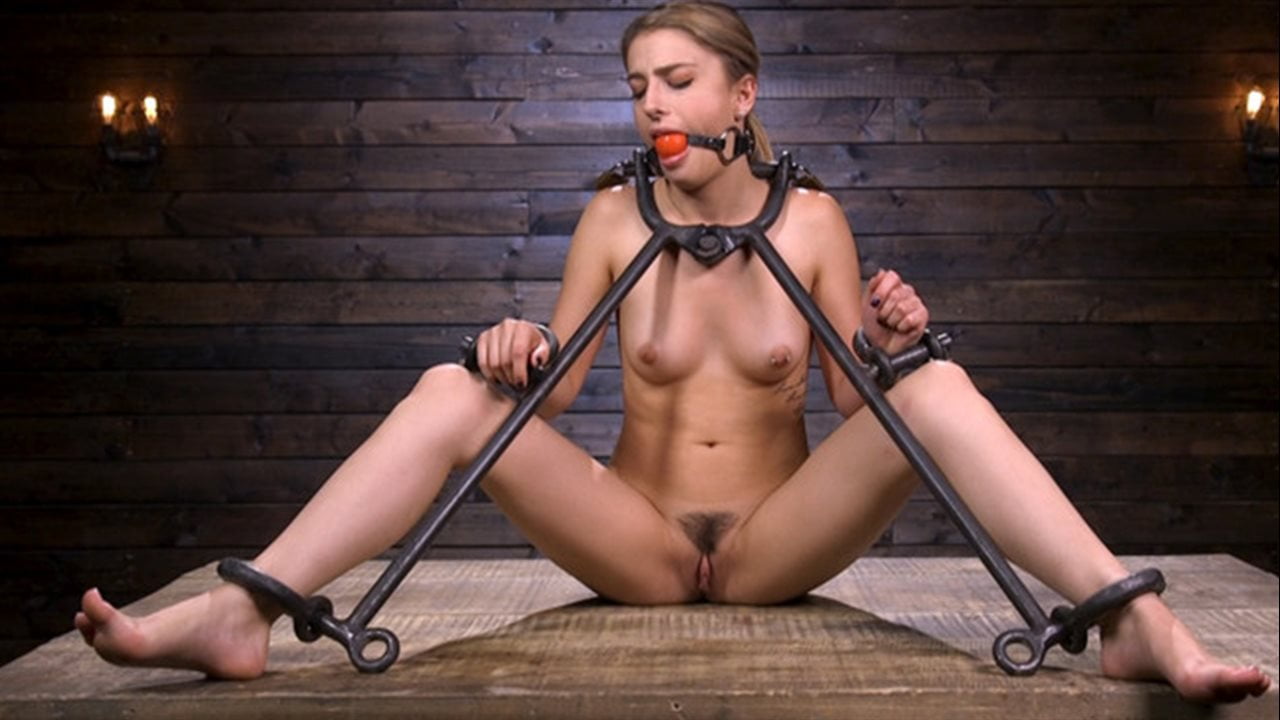 Every day is new beginning and today is the one the begins Kristen's first time on Device Bondage. She has proven herself on Hogtied in recent months, but this is a different dance that she has to do. The devices are rigid and unforgiving and the sense of total helplessness is immediate. She is standing with her body weaved into the first device that sticks her ass out and makes her arch her back. Even her pretty face is in bondage with a leather head harness gag. The Pope towers over his prey as the torment begins with a vicious flogging to her flesh. He has his way with her until she has earned her first orgasms. The second scene opens up with Kristen atop a wooden tale and restrained in a steel scavenger's daughter. Her neck, wrists, and ankles are all secured in cold steel keeping her in a fixed sitting position. A blindfold is applied to take away her sight so that the game can begin. The Pope quietly moves around the dungeon and shocks her with an electric zapper. Some fear play thrown in for good measure before he assaults her pussy with a vibe for more orgasms. We can't finish the day without seeing her perky ass, so she is bound in a doggy position. Her flesh is striped with a cane before she is stuffed with a large metal hook. She endures more orgasms against her will until he has had his fill of this little slut.