Latest 'Lesbian' updates from Risque Sluts

Hadley Viscara is an all-American busty blonde beauty who has just arrived to Spain and is excited to shoot for Kink.com for her very first time out of the United States. Here, Mistress Kara has devious plans in store for the innocent Hadley Viscara. She drags Hadley roughly by the rope that binds her through the Spanish backstreets. Kara rips Hadley's dress off leaving her completely naked while the public hurry by utterly shocked. Mistress Kara applies two pairs of nipple clamps to Hadley's perfect natural tits and then slaps them with her crop. She turns Hadley around and crops her perfect juicy round ass. She pulls up her own dress and presses Hadley's face against her pussy and makes her lick it until Mistress Kara cums all over Hadley's face. Mistress Kara loves watching her plaything squirm so she takes her into a shady dive bar and makes her sit on the bar-top and spread her legs and show everyone her pussy. Mistress Kara slaps Hadley's big natural tits with an acrylic paddle then teases and zaps her with electricity while the people in the bar gasp in shock. Mistress Kara tells all the old nasty men to caress Hadley's beautiful natural tits and so they do with mouths agape, surprised by their stroke of luck. Hadley gets worked up enough to beg for some dick and Tommy Pistol fucks her throat upside down on top of a pool table. He turns her over and fucks this American whore so hard she cums all over his cock. Mistress Kara jumps in on the action with her big cock strapped on and pushes Hadley to the edge with expert strap-on fucking. As the crowd gets wilder, Tommy Pistol takes her down on her knees and gives this filthy slut a proper Spanish welcome, a big fucking load right on her tits.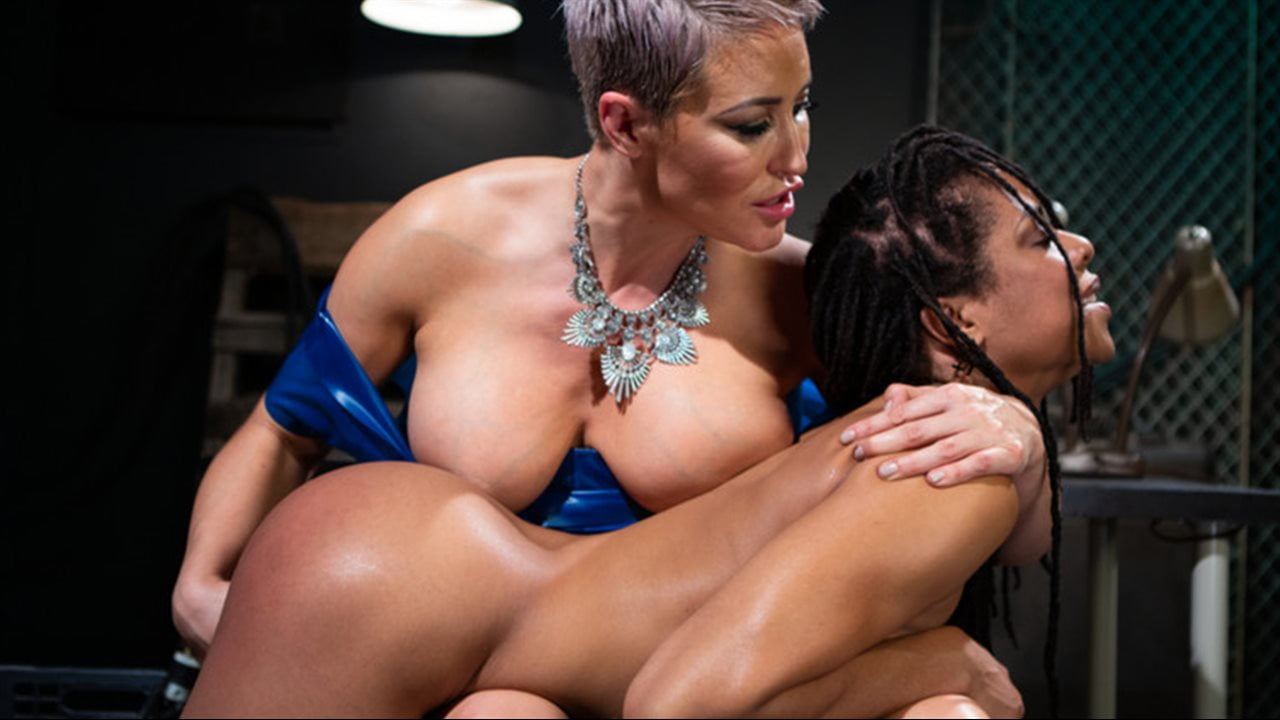 Incredibly hot hacker, Ryan Keely, has been monitoring the illicit activities of the equally stunning international hacker Kira Noir. She has a special bone to pick with her as Kira's new hacking endeavors have crossed into Ryan's own activities. Now Ryan finally has enough dirt to blackmail Kira into submission, and give her a taste of her own medicine. She calls her down to her den where she lays it all out on the table for her. At that moment Kira knows she has no choice but to submit to Ryan's wild sexual demands. Ryan starts her joyful revenge by making Kira worship her feet. She then proceeds to spank her and get her hot tight booty red and plump. Ryan pulls her latex dress up to reveal her nice wet pussy, and makes Kira lick her and pleasure her with her fingers. She then bends Kira over and plays with her tight little pussy until she cums. Kira then appears suspended upside down, helpless and at Ryan's mercy. Ryan teases her by shocking her senses. She runs the wand from her tongue up to her pussy, then licks her pussy and makes her cum with the vibrator while she shocks her body. Ryan takes advantage of her upside down position so she backs her ass on to Kira's face for a nice big orgasm. Then she takes Kira to the floor where she paddles her feet and big juicy ass. She gets her pussy nice and wet with a few licks then slides her big black cock into Kira's tight little pussy. She gives her a few shocks as she gives her a good pounding. She then makes Kira get on top and ride her cock until she cums all over it. A few shocks more, and Kira knows exactly who's been hacked.
Chanel Preston sits at her throne with two submissives kneeling at her side. To her right is Penny Pax who wants so bad to be trained to top other's asses. On her hands and knees with her round ass covered in latex and her big natural tits out, Penny listens and obeys as Chanel agrees to give her one chance. To Chanel's left is Kendra Spade who sits silent and naked and is there only to serve and to be a willing ass for Penny to practice on. But first Penny must worship Chanel's ass to show her how much she wants it. Chanel stands and lifts up her tight purple latex minidress and bends over her throne and spreads her big beautiful round ass. She tells Penny to show her what she's got and Penny dives into her ass face-first and vigorously licks her hole. Chanel shoos Penny away and tells Kendra to show her how its done. Sure enough, Kendra licks Chanel's hole with more gumption, licking and tongue-fucking her hole, getting Chanel to moan in pleasure. Chanel tells Kendra to stick a glass toy in her ass and Kendra does it perfectly, showing up Penny once again. Kendra pulls the toy out of Chanel's ass and puts it in her mouth to clean it off. She pops it in and out of Chanel's ass and feeds the toy to Penny. Next, Chanel tells Penny to put the toy into Kendra's ass and to not disappoint her. Penny stretches Kendra's ass with the clear glass toy while Chanel flogs Penny's bare ass. Chanel presses an hitachi against Kendra's pussy and she cums hard. In the next scene, Kendra is on her back with her legs spread with a metal butt-plug in her ass. Chanel tells Penny to make Kendra cum, and so with her ass in the air, Penny licks Kendra's pussy while Chanel fucks Penny's ass with a big metal dildo. After that, Chanel commands Kendra to get her ass in the air. Chanel puts a cold metal speculum into Kendra's ass and spreads it open. Penny is ordered to lick Kendra's gaping hole while Chanel puts the hitachi once again onto Kendra's pussy and Kendra cums again. Chanel puts the strap-on to work and stacks Kendra on top of Penny, both in doggie, and fucks their asses with her big strap on dildo. Kendra hops off and sticks her open mouth next to Penny's ass hoping to gag on Chanel's cock and taste the inside of Penny's ass. They both take turns riding their Mistress' cock in reverse cowgirl, fucking their own asses. In the final scene, Penny is on her back with her legs spread and Chanel fucks her with a huge class toy. She flips her over in to doggie and fists her ass and makes Kendra fist her ass too.