Latest updates featuring Grayson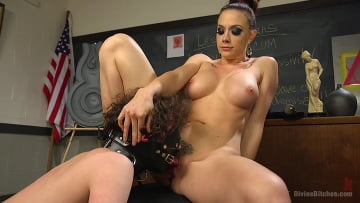 29th April
- Schools in and Chanel Preston gives lesson plans from classic literature, SCUM by Valarie Solanas. If you don't know this book, go out, buy and read i
t. In the meantime, slave boys, take your cues from Mistress Preston and learn your place in this world. Below her beautiful feet is where you belong, getting trampled by her heels is your privilege! Start admitting you like it in the ass and make a change in this world. Get comfortable with the demise of your maleness and lick pussy. Lots of it. Understand the privilege and do it well, slaves!
...Read More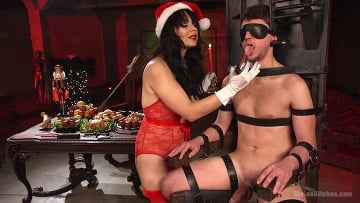 25th December
- Mistress Siouxsie Q James celebrates the holidays training Divine Bitches newest young slave, Grayson. How kind of her to dedicate her time and labor
to guide this young piece of boy meat. Grayson will leave a better man because of it but not until Siouxsie gets paid handsomely. Siouxsie looks sweet as pie but she is wickedly sadistic and dishes it out to Grayson with CBT, electricity, spanking and strict bondage. Grayson is pushed to the edge of orgasm with her cock pressing hard on his prostate. She even demands he fuck her to orgasm but he loses his load within 10 pumps in her beautiful pussy. But, don't worry she gets her's and he's left to clean all the sticky mess left behind. Merry Bitchmas!
...Read More