Latest updates featuring Irina Vega
16th October
- What do you do when your slutty best friend fucks the person that you hate most in the world. For Irina Vega it isn't enough to just confront Nerea Fa
lco about the issue in a private location where the two can hash out their differences or walk away from each other forever. Instead she brings her meanest friend and fellow whore Lady Nala to call out Nerea's bullshit in the most public of settings and shame the bitch into apologizing for her slutty ways. Standing on the edge of Barcelona's most famous museum Irina asks Nerea a simple question, "Did you fuck my enemy?" And with great shame and humility Nerea admits to her transgression. With the discipline of the master torturer of an ancient medieval court she says nothing and instead strips the bitch naked so her whore nature will be on display for everyone coming and going from the prestigious museum. She then has Nerea kneel before and beg for forgiveness as Lady Nala shaves her head bald. She pouts and pleads with Irina for mercy but she finds none. She is then coerced into parading around the public plaza wearing only her high heels while holding a sign that reads, "I fucked the enemy." And thus begins a long march of shame all around the historic back streets and scenic tourist traps of this ancient city. Satisfied with the first stage of Nerea's punishment, the sadist Irina then takes her female slave to a local tavern so a select group of local patrons can spend some detailed and quality time humiliating Nerea in a slightly more intimate session. With the help of Max Cortes and Steve Holmes, Nerea receives corporal punishment and impact play while being beaten with a heavy leather flogger and a cane while the audience cheers on and revels in her pathetic attempts to seek approval and redemption. She entreats her best friend to understand that she knows that she was wrong to fuck the enemy but her screams are inaudible with cocks throat fucking her and hands choking her fragile neck. Max and Steve take turns fucking her whore holes and making her give them blow jobs while Nala practices face sitting and makes Nerea suck her pussy against her will. As the orgy continues Nala is gets a vaginal fisting by Nerea all the way up to her elbow and she has first of many multiple orgasms. Finally when Irina feels that Nerea has learned her lesson she allows Max and Steve to cum all over her cleanly shaved head. Pouting and promising that she will never do something like this again, Nerea is finally tossed to ground and made to clean the floor with her tongue. The crowd only looks on, laughs, and revels in her public disgrace.
...Read More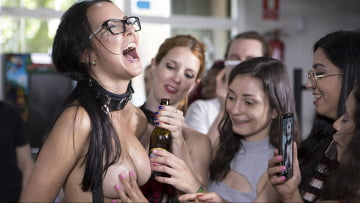 4th September
- Francys Belle is a hot slender brunette from Brazil who is excited for her first time here on Public Disgrace. We start in Barcelona on a hot sunny da
y with Irene Vega and Steve Holmes on a corner, having a smoke while their submissive slut for the day Francys Belle kneels on the concrete next to them holding an ashtray gag in her mouth wearing a very slutty maids outfit. Next Irene and Steve head to a quiet place outdoors with a nice view to meet Max Cortes. There they spank and paddle Francys' ass while Steve and Max each take turns sticking their cocks down her throat covering her big bare tits in spit. After that they head to the beach where Francys is told to get totally naked and walk slowly ahead of them so everyone can stare at her big tits, small round ass and shaved pussy. Wearing only glasses she waves at the passing public loving the attention. Finally we find ourselves at a bar where a gaggle of hot ladies cant help but immediately get their hands and mouths on Francys once her clothes come off. They suck her tits, poor drinks her, and rub ice on her pussy. Max has Francys get on her knees and fucks her face till his cock and her face are covered in spit. Steve lies down and Francys hops onto him in reverse cowgirl and slides Steve's fat cock in her little pussy like a true pro. With her pussy thoroughly fucked Irene stuffs Steve's cock in her ass and Francys cums hard while Steve pounds her and Irene crops her pussy and legs. Max positions himself the spread-eagle Francys and shoves his dick in her pussy with Steve's cock still buried in her ass. Irene rubs Francys' clit as she's getting pounded in both holes and gets sent into outter space with a multitude of huge orgasms.
...Read More