Latest updates featuring Ryan Keely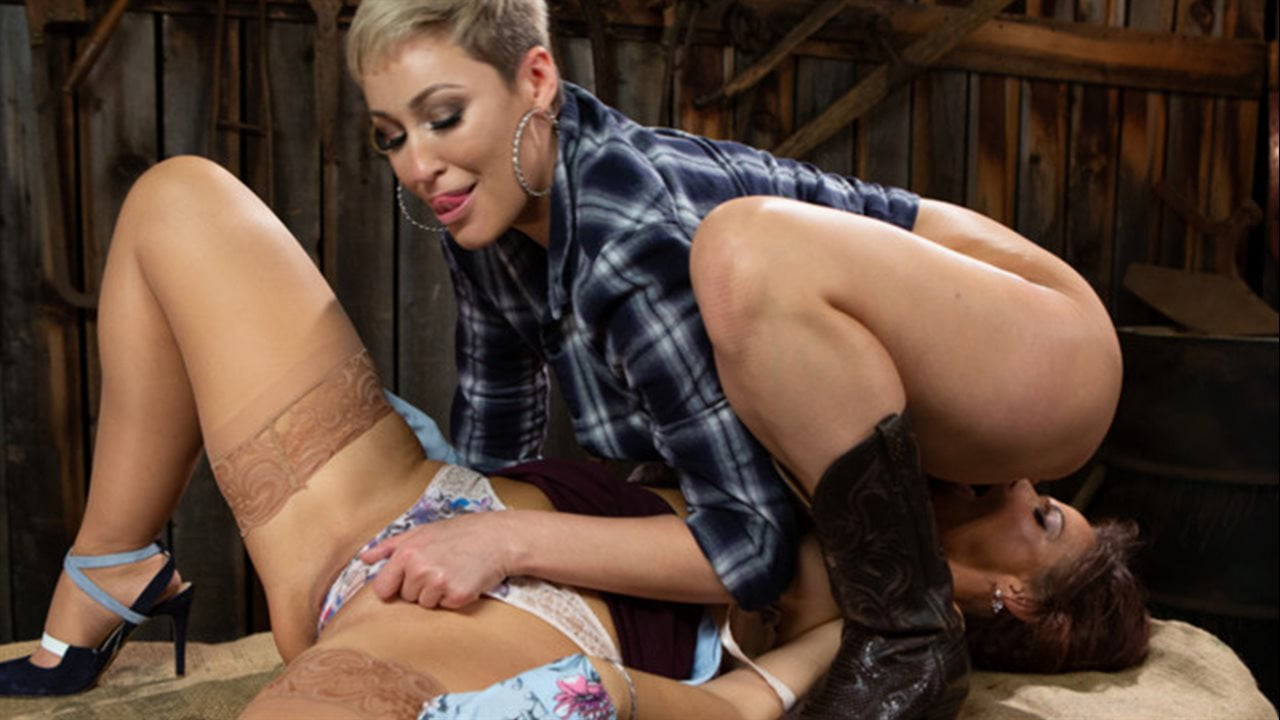 Deep in no mans land there's a farm rich in underground shale oil. Syren de Mer is a sexy oil exec who tries to convince the buxom farmer, Ryan Keely, to sell her land, but the only drilling this hot and sexy farmer is allowing on her land is deep in this execs holes. Feeling a little isolated from the world, she takes advantage of the sexy execs presence and shows her a good fracking time. She takes down Syren De Mer and preps her nice juicy booty with some spanking. Ryan then smothers Syren's face with her big juicy ass and gives her a taste of her sweet pussy. Ryan then ties and suspends Syren De Mer. She gives her a little pain before pleasure with a bit of caning and cropping. After dishing out a bit of pain on Syren's booty and feet, she takes a big dick-on-a-stick and gives her a good fucking. The filthy little exec begs to cum as she gets drilled by Ryan's dick on a stick. Ryan hits the right spot and makes Syren gush like an oil well, leaving a big wet mess all over the barn floor. Ryan then gives Syren a good flogging on her booty, leaving it nice and red before going deep inside of her with her strap on cock. She fucks Syren hard, showing her how a good drilling is done. Syren begs to cum over and over as she is ready to gush. Ryan then shoves her cock deep in Syren's ass. Now Ryan's ready to get her own pleasure. She scissors Syren and uses her body until she gets her orgasm. This dirty little exec will think twice before trying to take another country gal's farm.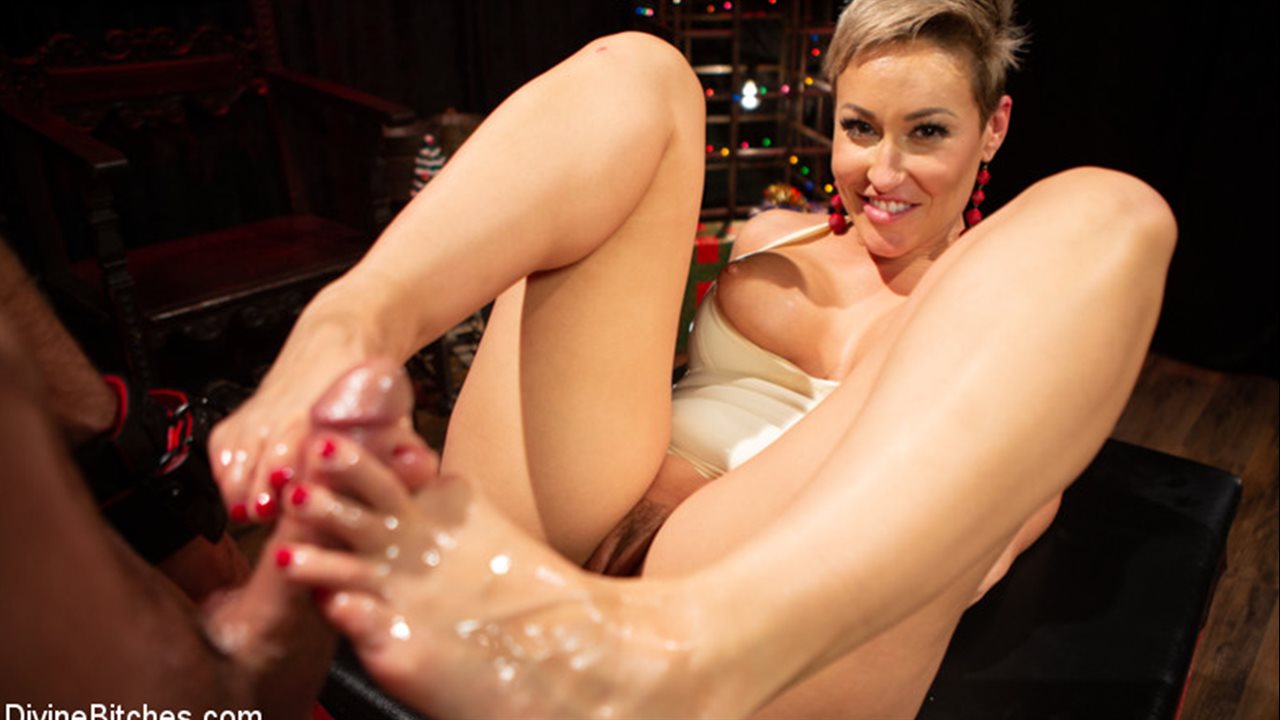 Buxom blonde Ryan Keely receives a very special gift from dear friend Mona Wales. She rips open her present to find a very naked and hard Lance Hart awaiting her every order. Lance is eager for the opportunity to serve his new Mistress and is soon put to the test! Ryan squeezes his hard leaking cock and smothers him with her gorgeous tits. She takes him over her knee for an old fashioned spanking and makes him worship her beautiful feet. Lance takes as much of his Mistress' foot in his mouth as he can, lavishing extra attention on her toes. She instructs him on how to eat her pussy and smothers his face under her ass as she rides his tongue to orgasm. Next, Ryan fucks her new slave with a strap-on cock. Lance is a huge cockslut. He loves getting fucked by his Mistress' cock and takes every inch. He greedily sucks her cock clean after. But pleasure isn't the only thing on Ryan's agenda tonight. She flogs Lance and knees him in the balls repeatedly, savoring the sound of his suffering. She rides his cock before commanding him to fuck her just how she likes -- hard and fast! Lance pistons his hips as he struggles to plead his Mistress and to keep from cumming in her tight cunt. After using Lance to cum multiple times, Ryan jacks him off with her toes. Lance doesn't last long, he cums all over his Mistress' feet and then cleans his mess.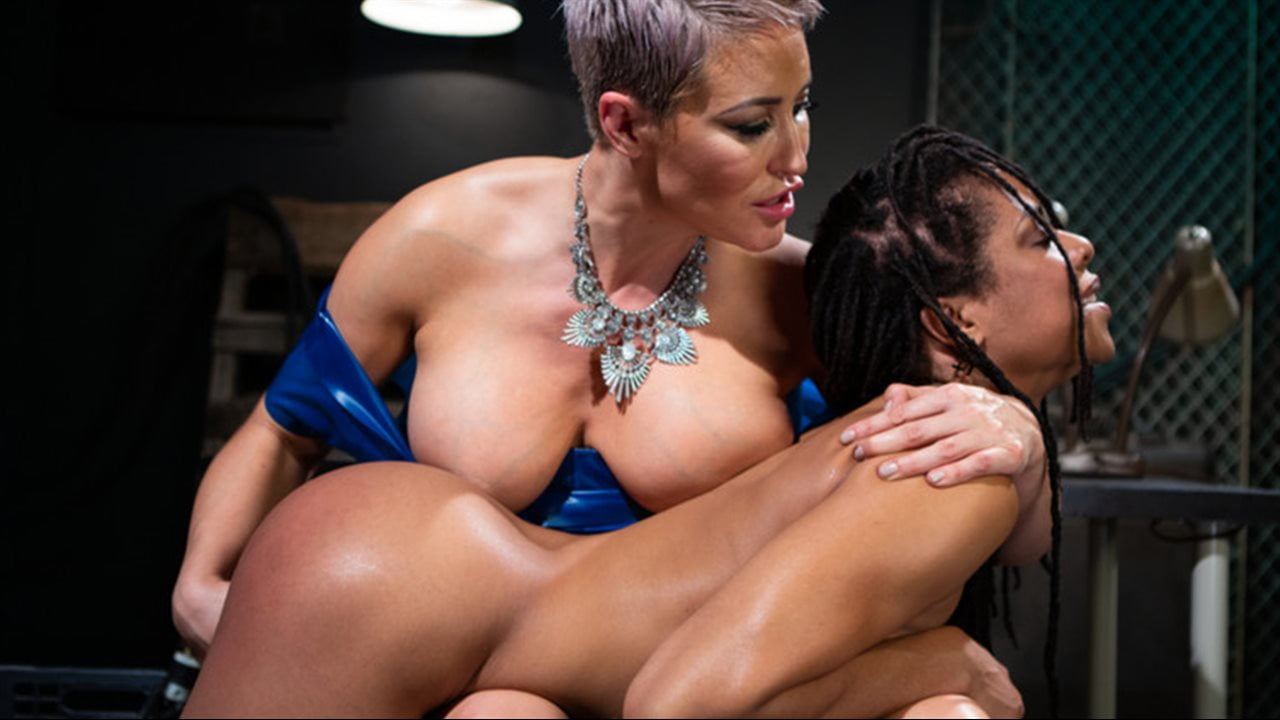 Incredibly hot hacker, Ryan Keely, has been monitoring the illicit activities of the equally stunning international hacker Kira Noir. She has a special bone to pick with her as Kira's new hacking endeavors have crossed into Ryan's own activities. Now Ryan finally has enough dirt to blackmail Kira into submission, and give her a taste of her own medicine. She calls her down to her den where she lays it all out on the table for her. At that moment Kira knows she has no choice but to submit to Ryan's wild sexual demands. Ryan starts her joyful revenge by making Kira worship her feet. She then proceeds to spank her and get her hot tight booty red and plump. Ryan pulls her latex dress up to reveal her nice wet pussy, and makes Kira lick her and pleasure her with her fingers. She then bends Kira over and plays with her tight little pussy until she cums. Kira then appears suspended upside down, helpless and at Ryan's mercy. Ryan teases her by shocking her senses. She runs the wand from her tongue up to her pussy, then licks her pussy and makes her cum with the vibrator while she shocks her body. Ryan takes advantage of her upside down position so she backs her ass on to Kira's face for a nice big orgasm. Then she takes Kira to the floor where she paddles her feet and big juicy ass. She gets her pussy nice and wet with a few licks then slides her big black cock into Kira's tight little pussy. She gives her a few shocks as she gives her a good pounding. She then makes Kira get on top and ride her cock until she cums all over it. A few shocks more, and Kira knows exactly who's been hacked.