Latest updates featuring Demi Sutra
Bill Bailey has a suitcase full of cash and an FBI man hot on his trail. He enters the first house he sees to lay low and catches the beautiful and naked Demi Sutra by surprise. Demi screams as she catches sight of Bill and they struggle. Bill overpowers Demi, slaps her face, ties her up and gags her. Once she's all tied up, Bill has a moment to appreciate her lithe petite frame. He feels up her tits and pussy as she struggles in bondage, unable to escape her captor. Bill flogs Demi before putting nipple clamps on her tits and teasing her with a vibrator on her juicy cunt. Demi screams in pleasure. She doesn't know why, but this predicament has her all hot. She grinds down on the vibe trying to cum, but Bill has other plans. Demi isn't allowed to cum unless she's begging for his cock. Soon Demi is begging Bill to sick his cock in her mouth and her wish is granted. Bill inspects her mouth and spits in it, before sliding his hard cock in. He fucks her face and stuffs his whole package -- balls included -- into her pretty little mouth. Next, he ties her over a bed with her legs spread and takes a good luck at her pink pussy. Demi squirms as Bill flogs her and crops her ass. He puts close pins on her vulva and watches Demi wiggle in pain. Demi doesn't know if it's the pain or loss of control but she wants more. She begs Bill to give her more and fuck her cunt. Bill pushes his hard cock into her tight cunt, stretching it open and gives her a good hard pounding. He ties her on her back with her legs open and continues fucking her hole as Demi screams in pleasure, begging him to keep fucking her. She cums over and over with Bill in her cunt before Bill jerks off all over her sweet pussy.
Demi has been doing porn for a bit, but she is brand new to us here at Kink. She contacted The Pope and begged for him to tie her up and use her like a good little slut, and we get to see it. She doesn't think of herself as a pain slut, but rather more of a rope bunny. Without hesitation, The Pope starts the day with Demi in a side suspension with her legs spread wide. She is flogged all over her body and the room slowly fills with moans and screams. Her pussy is abused by way of constant vibe action making her orgasm hard. Once she catches her breath from all of the vibration, The Pope throat fucks her before shoving the massive dildo inside of her tight little pussy and fucking her into an orgasm overload. Next, Demi finds herself in another suspension, but this time she is inverted with her legs spread. Her nipples are pinched and pulled to torment her. All of her body weight pulls back making the torment almost unbearable. Once The Pope has had his fill of toying with her, he grabs the vibe and administers non stop orgasms until she cannot handle it any longer. He steps away, only to return with with a 12 pound bowling ball to attach to her neck rope. More orgasms are ripped from her pussy and she convulses with ecstasy as she cums uncontrollably. Demi is a playful little creature, so she is made to twerk her sexy ass to entertain The Pope while in bondage. A large metal hook is brought in and he makes Demi suck on it to get it wet enough to shove into her pussy. It's then tied to her neck and then the zapper is used to continue the ass entertainment. She is finished off with more orgasms, that have proven to be more torment than anything else.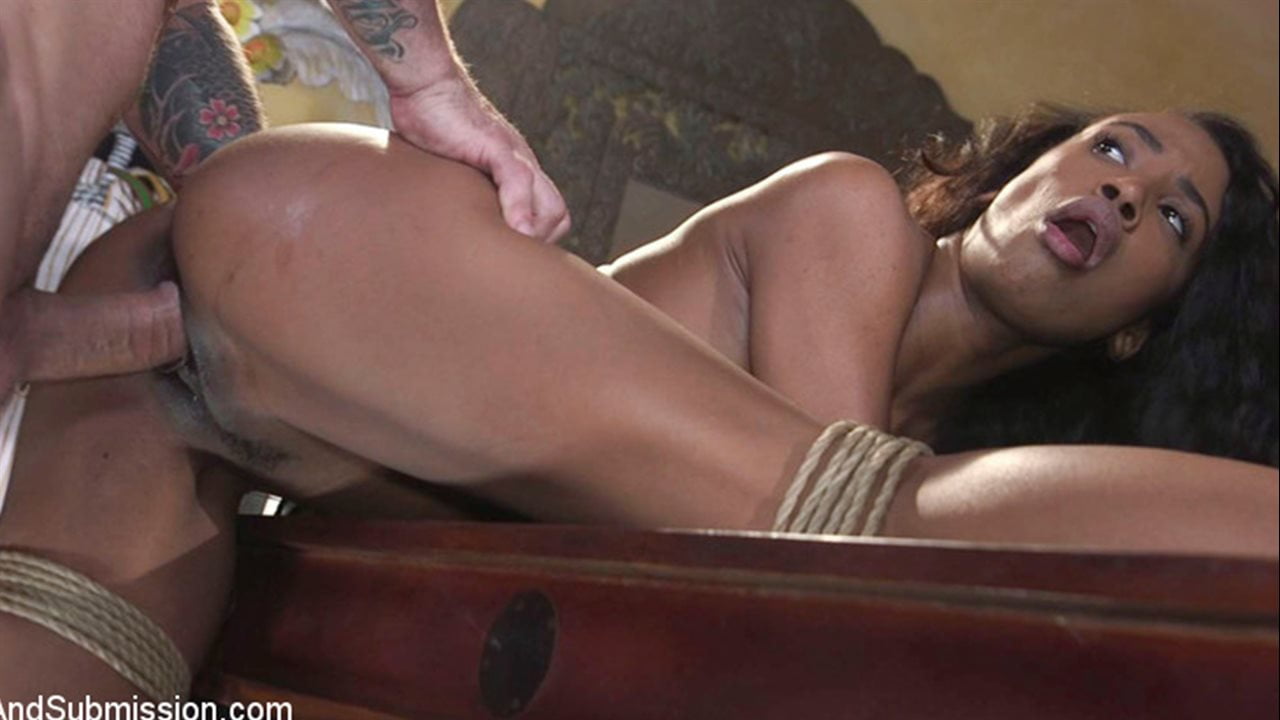 When Mr Pete finds sexy Demi Sutra Tied up and Stranded in the woods he draws her into a world of drug smuggling, BDSM and hardcore sex. Pete is searching for something his friend Ivan supposedly left for him in a secret spot, but instead finds a beautiful damsel in distress, gagged and chained to a tree screaming for help. Adorned with long curly locks, tight cutoffs and rope binding her crotch, she is a sight for sore eyes. Mr Pete recognizes her as Ivan's girlfriend and decides to use her for his own sordid affairs. Even though she isn't happy about being tied up out in the middle of nowhere, she is a horny slut who is more than willing to give Mr Pete what he wants in order to be free. He takes her gag out and she begs for his cock in her mouth. Mr Petes thick dick plunges deep down Demi's throat turning her into a choking, slobbering mess. When he almost leaves her behind she begs him to take her with him and so he does--maybe she can help him with his dirty dealings. But first let's play! Mr Pete ties Demi up bent over a table with one leg down and one leg up spreading her pussy for easy access. He whips her with the flogger on her firm ass and thighs and teases her with his tongue until she begs him to fuck her. Mr Pete fills her wet and ready pussy right up with cock and takes her on an exhilarating ride to pound town. She can hardly contain herself with all this good fucking she squirts and cums all over Pete's capable cock. Then, tied up on her back with wrists tied to ankles, Mr Pete excites her with the crop and flogger and fingers her pussy till she squirts again. Now she's ready for more of that delicious dick, cuz she just can't get enough. Mr Pete slides his cock inside Demi's slutty little pussy and grabs the rope strapped on her chest for leverage. Her sexy natural tits bounce back and forth while he vibes her pussy and fucks her until she begs to cum, and ohhh she cums hard, causing Mr Pete to lose it and shoot his hot jizz all over Demi's satisfied pussy.