Latest Updates from 'Device Bondage' at Risque Sluts

Victoria has made it around to several kink sites, but she wants to suffer. The suffering she craves comes from brutal torment, not sex and bondage with a little spanking, so she has begged for The Pope to dominate her. This request is not taken lightly and he has guaranteed her that this will be the most brutal shoot that she has experience so far. The bondage is designed to make her suffer as much as the grueling torment that goes along with it. She is locked into a sitting type of device that has her as vulnerable as she can possibly be. The beating begin and quickly escalate to a level higher than the average new girl gets. It becomes a full assault on her entire body to show this slut how tough the entire day is going to be. Next Victoria is put in an extreme hogtie that has most of her weight resting on her chest and throat. This is the signature position that actually represents the Device Bondage brand. She suffers through more torment and then is fucked and made to cum. In the final scene she is on her back and her legs held open with a steel structure. The Pope imposes his will on her before deciding to attempt to turn her into a life size meat puppet. He decides to abandon the idea and instead fucks her with the magic wand. Victoria arrived asking for everything and she is leaving a satisfied slut.
Helena has proven that she can handle the most diabolical bondage and torment, but can she take what comes next? Her first showing was impressive and we know that The Pope isn't going to stop there. He is going to take it deep into the next level, and if anyone can handle it, it's Helena. She begins belted to a pole in a standing position, and the assault on her begins instantly. She is blindfolded and left to deal with the demons in her own mind while he torments her body. An orgasm eases the suffering temporarily before it all resumes. Next she is shackled to a box with her ass in the air. Flogging, paddling, and other activities turn her flesh into a bright red canvas of pain and suffering. Again she is rewarded with orgasms, and then on to the finale. She is spread eagle on the floor. This is when things go from bad to worse. She endures brutal torment that takes her as close to the edge as she has ever been. The final orgasms are going to be earned through tease and denial. She has endured another grueling session with The Pope and is a stronger slut for it.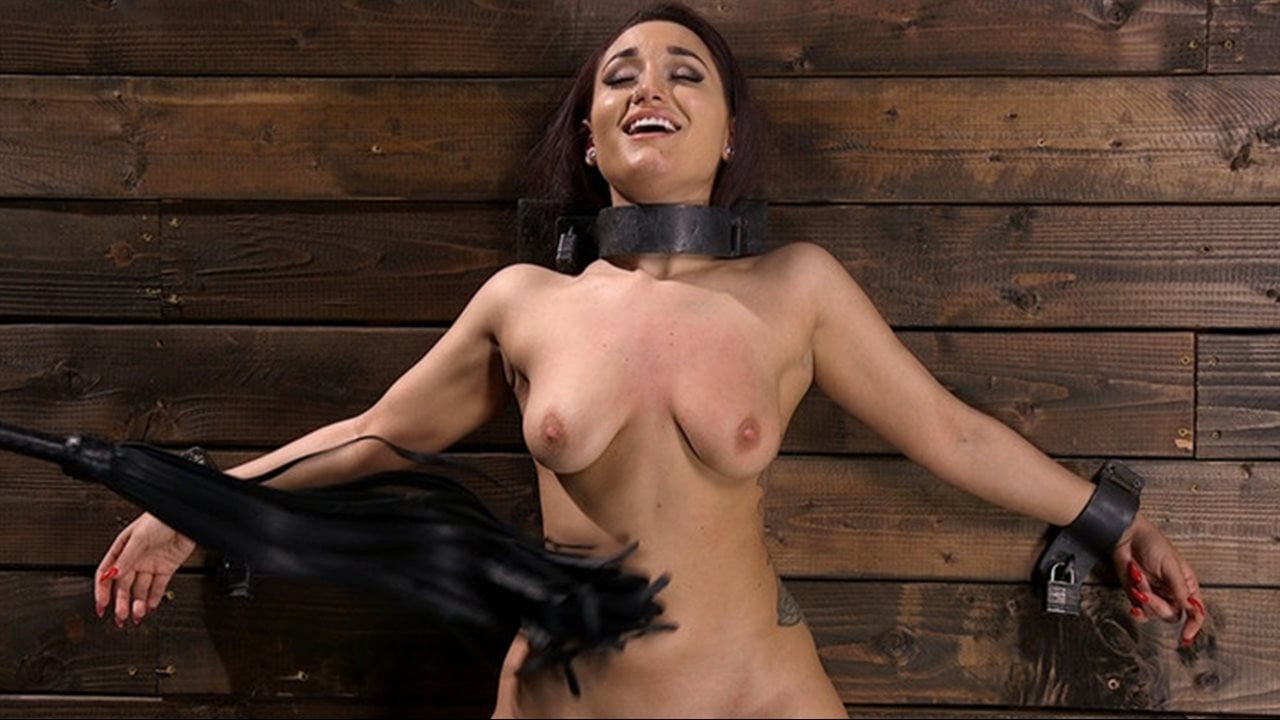 He does things to her that only he can get away with and she loves him for it. Let's start with her appearance, and holy fucking hell!! She looks better now than ever before and The Pope puts her body on display as he begins to torment his pet. She is drilled to the wall and held in place with steel shackles. She smiles with anticipation as he enters and begins terrorizing her body. Once he feels she has had enough for her first scene back, she is made to cum. Next she is put in a diabolical predicament as she is made to kneel with her arms pulled back into a strappado. her nipples are clamped and then weights are added to increase her suffering. In the final scene she is on the floor, face down with her perfect ass on display. This is where the game starts to change from prior shoots. Gabby has begged The Pope to leave his mark on her body. She is caned across the back of her legs and her ass until her flesh is littered with nasty cane marks. The finishing touch is added as he fucks her ass and makes her cum uncontrollably.